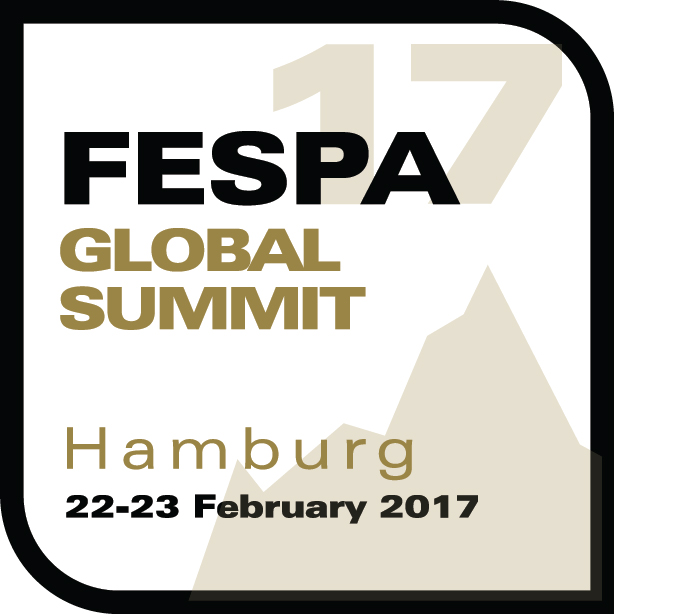 Le FESPA SUMMIT est un congrès international de deux jours sur des thématiques dédiées aux dirigeants d'entreprise de sérigraphie et d'impression numérique grand format : opportunités futures dans l'impression, prévisions économiques…
Les conférences seront uniquement en anglais.
Programme FESPA Global Summit 2017
February 22nd-23rd, 2017
Grand Elysee Hotel, Hamburg
Be prepared to be stimulated and challenged on your journey to achieving business excellence
Not just time to be 'talked at', this programme demands that you engage your brain, connect with your peers in attendance and truly explore the business landscape of the wideformat digital, screen and textile printing landscape. Each session is carefully designed to offer you clear 'takeaway' points relevant to your business.
Day One, Feb 22nd 2017
10.30-11.00 Registration and Welcome
11.00-11.15 FESPA welcome and Chairman's introduction
11.15-11.45 Strategic Icebreaker and Engagement
Setting the scene for the format of the event, you'll be challenged to think and act differently, in this first step towards collaborative working and effectively considering your business direction
Dr Paul Thomas
11.45-12.45 Economic Forecast – macro to micro
Examining global macroeconomic forces from political shifts to oil and water, and their impact on both the supply and demand aspects of print production, this session from one of Europe's most eminent economists will give you invaluable insight to inform your strategic decision-making in this bespoke economic forecast Hamish McRae, economist and futurist
12.45-13.15 Reaction to economic outlook
Working in small groups with your peers, guided by experts in leadership and economics you'll closely examine the potential impact of the economic forecast on your business and plans for growth
13.15-14.30 Networking lunch
14.30-15.15 Future Opportunities in Print
Not only highlighting the strongest sectors for growth in adjacent print markets, carefully selected for their accessibility to your business, but also exploring the technologies required to enter these markets and the varying characteristics and needs of the buyers that populate them – this session will give you invaluable insight into key opportunities for your business
Ron Gilboa, Infotrends
15.15-15.35 Reaction to future opportunities
Working in small groups you will be guided through the key considerations for expanding your business through diversification into one or more of the key growth areas identified in the previous session
15.35-16.15 Coffee and speed networking
A chance to meet key leaders from adjacent sectors who can offer deeper understanding of markets of interest to you
16.15-17.00 Business drivers workshop
This energetic session will give you a chance to reflect on your learnings from the day against a backdrop of themes such as leadership and motivation in an engaging and memorable way
Paul Thomas
17.00-18.30 Free Time
Your chance to relax and recharge before dinner, use the gym, catch up on your business, or reflect peacefully in the top class spa at the 5* Grand Elysee Hotel
18.30-late Drinks and Dinner
A fun and informal evening where you can connect, continue conversations begun earlier in the day, and explore your takeaways from the formal sessions together with your peers in the traditional German setting of the city's best bierkeller

Day Two, Feb 23rd 2017
09.30-10.00 Morning coffee
10.00-10.30 Chair's refresh and recap
Summarising the outcomes from the first day and blowing away and cobwebs remaining from the previous evening to begin the day refreshed, focussed and ready for our keynote session
Paul Thomas
10.30-11.45 Taming Tigers
You're writing the story of your life, who else could be holding the pen? The aim of the Taming Tigers approach is to help you write your 'blockbuster'. Taming Tigers is a proven approach to personal transformation. This session offers a clear set of ten rules which can revolutionise your approach to all aspects of your life – including, of course, your business.
Jim Lawless

11.45-12.00  Closing comments
Paul Thomas
12.00-13.00 Networking Lunch
13.00 Summit Close

Prix pour les membres FESPA France 695 € Hôtel inclus